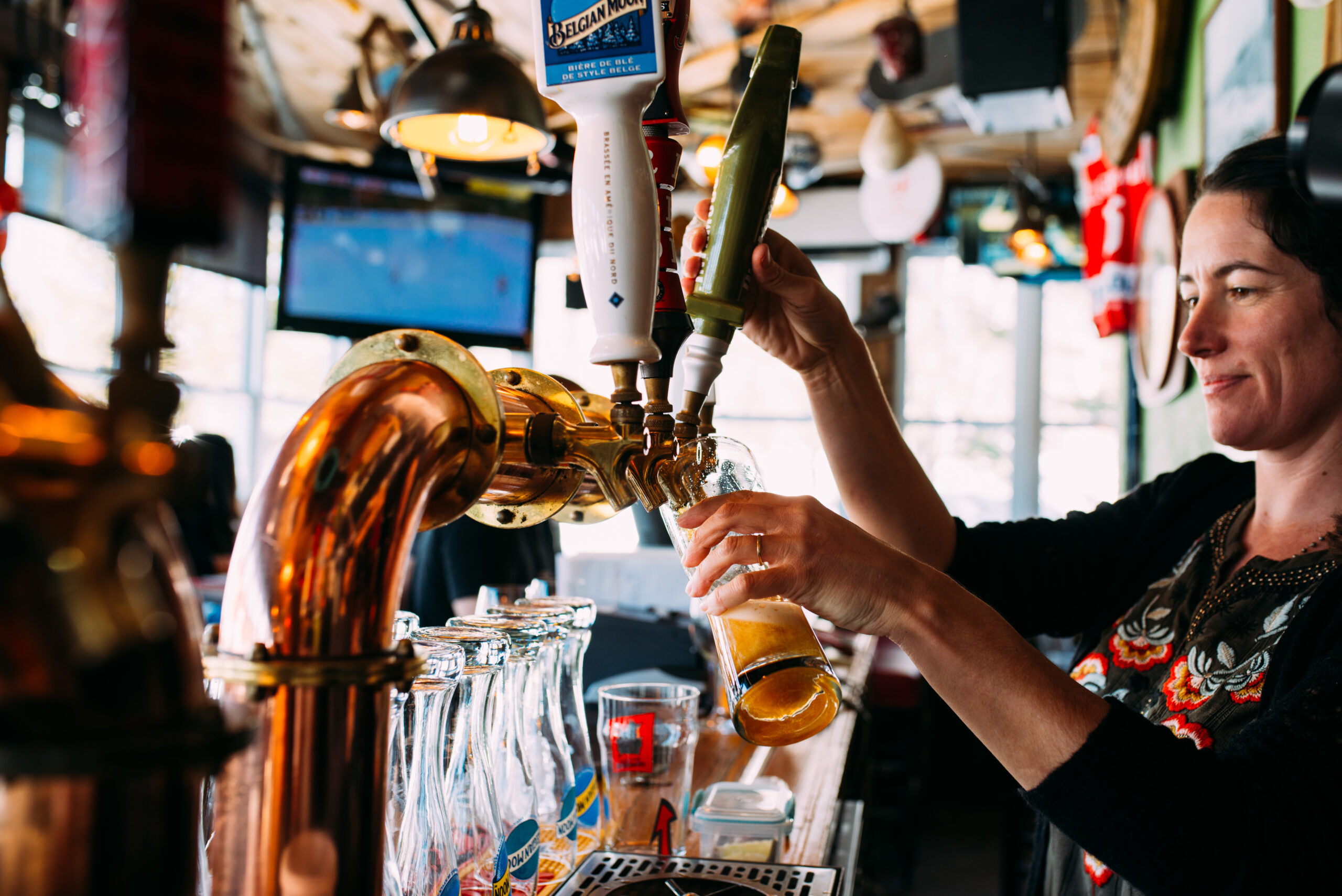 Burger Pub: A Mecca for Foodies
July 20, 2023
Whether you've been whizzing down the slopes on skis or balancing on a snowboard, marching along a hiking trail, or thundering downhill on a mountain bike, you're sure to work up a healthy appetite! Sporty types, tourists, and locals alike love to gather at the Burger Pub in Orford, a mecca for hungry foodies, which is conveniently located on the terrace in front of the Espace 4 Saisons hotel complex.
We've been proudly feeding the public for the past 15 years! The following gives you some details about our popular restaurant.
You can get to the Burger Pub from the outdoor parking lot or via a corridor underneath the Espace 4 Saisons—a practical way to access it in winter when you don't want to put on your boots. Just follow the directions in the lobby. You take the elevator to the basement, walk across a couple of hallways, then go back up and you'll arrive right at the Burger Pub—bright-eyed and bushy-tailed!
Although the resto is decorated like a sports bar, everybody is welcome! All kinds of people enjoy the restaurant for all kinds of reasons—to enjoy a happy hour with colleagues, eat an evening meal, for an outing with the family, a romantic dinner for two or indeed to watch a sporting event. People from all walks of life are drawn to the relaxed, friendly ambience—such a contrast to more formal dining rooms.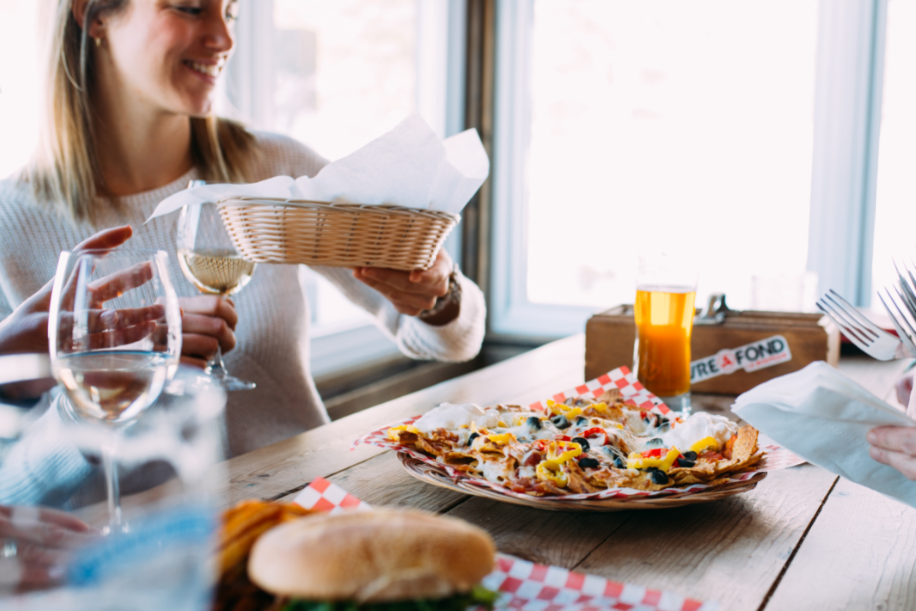 The Burger Pub is the ideal place to meet up. The relaxed atmosphere, far from stuffy restaurants, appeals to everyone.
The artifacts on the walls date back to the restaurant's early days. When Gilles Rouleau (former owner and founder of the restaurant) opened the Burger Pub 15 years ago, he cast around for second-hand items to hang on the walls. Customers obliged by giving him old sporting goods that were stored in their garages. Rather than throw them away, they were happy to give their once-prized possessions a new lease of life!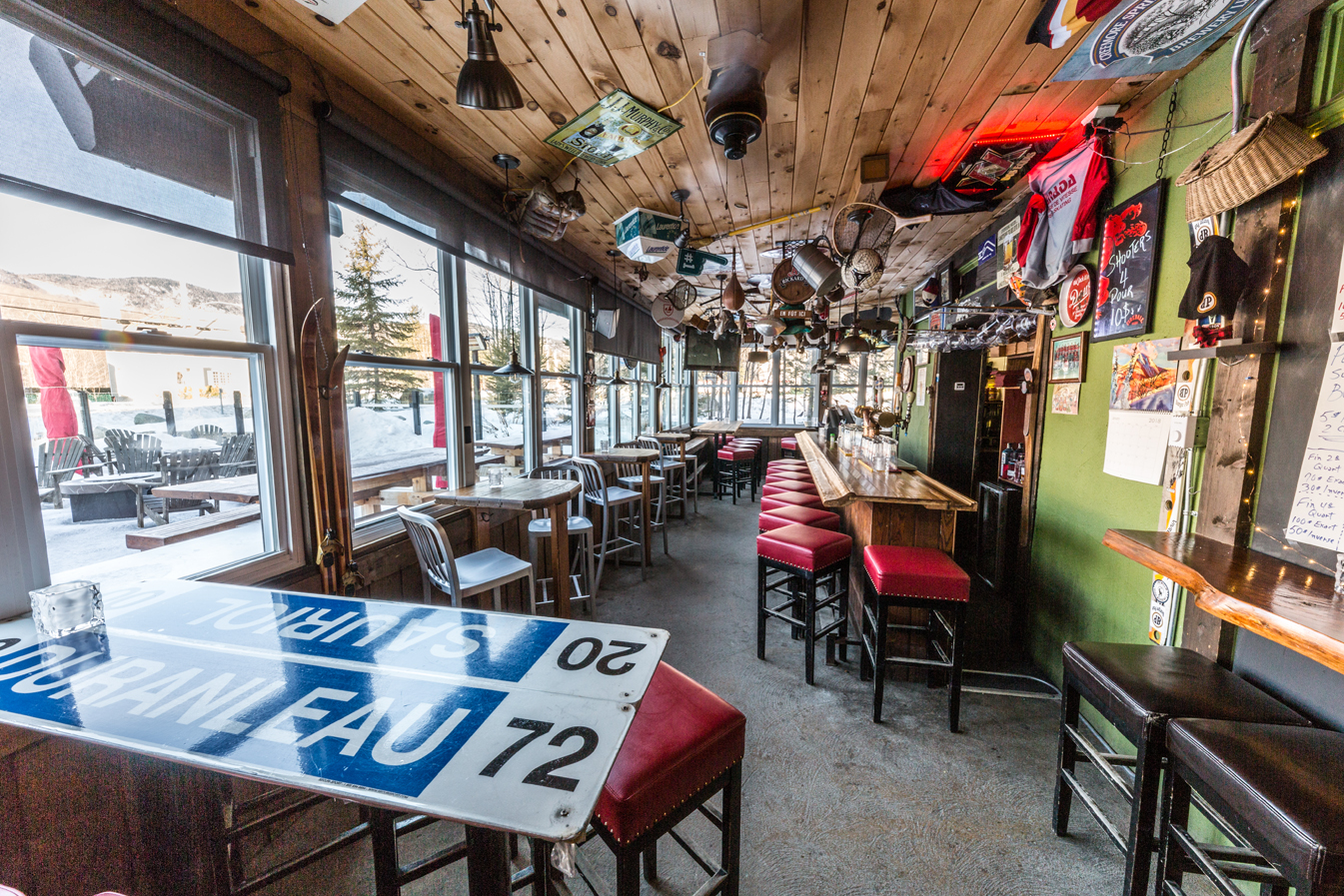 The vintage sports equipment is the very thing that lends charm and authenticity to the interior of the Pub, which looks and feels a little like a counterpart in England. The large windows, the mountain view, and the adjoining terrace, all add to the uniqueness of this popular establishment.
The menu features mouthwatering, enticing food. Burgers (of course!) are our specialty, whether they're made with beef, chicken, veggies or venison, and the chef can prepare something that appeals to your particular taste. If you want to try something other than a juicy, flavourful burger, then we can oblige! Also on the menu are nachos, poutines, salads, ribs, fish, and a selection of sides.
We also offer a selection of beers on tap (some from local microbreweries), classic cocktails and wine. A visit to Burger Pub is guaranteed to leave you feeling sated and on top of the world!
Book your table now: 819 847-4936
Read more articles